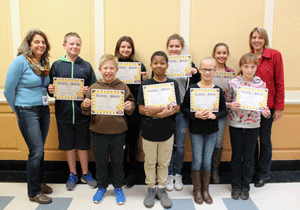 Congratulations to 8th graders David Evan Anderson and Mackenzie Krom; 7th graders Samantha Malkowski, Kaelyn Bulich, and Nathan Riordan; and 6th graders Katelyn Reilly, Lauren Liberti, and Carter Van Etten for being selected as Catskill Middle School's Students of the Month for October.
During the school year, CMS recognizes the students who most represent our school's Character Pillar of the Month, which was Trustworthiness for October. Each student is selected for this honor by his or her grade level's teaching team.
Pictured left to right are our school counselor, Ms. Daly, with Nathan Riordan, Carter Van Etten, Samantha Malkowski, David Anderson, Mackenzie Krom, Kaelyn Bulich, Lauren Liberti, Katelynn Reilly, and Ms. Overbaugh, school principal.