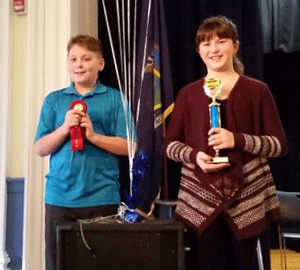 Sixth grader Karsen Chiminelli is the winner of the Catskill Middle School Spelling Bee, held January 5th in our school's auditorium. In the final round of competition, Karsen correctly spelled 'Malacca' to edge out runner up and fellow sixth grader Christopher Konsul for the win. Our school awarded Karsen a trophy and Christopher a ribbon for their respective finishes.
As our Spelling Bee champion, Karsen will go on to represent Catskill Middle School at the Capital Region Spelling Bee at Proctor's Theatre in Schenectady on February 7th.
Reintroduced at the Middle School this year after a several-year hiatus, the Spelling Bee drew twenty-three of our top spellers to the auditorium stage. Our contestants, representing grades six, seven, and eight, were asked to spell increasingly difficult and obscure words on the spot. ELA teacher Robert Stinson was the Bee's pronouncer while fellow ELA teacher Colleen Nabozny was the judge. Both helped organize the event along with assistant principal Paul Panighetti.
All our contestants can be considered winners in their own right, as each had to first win his or her individual English classroom's spelling competition to earn a spot in the school-wide Bee.