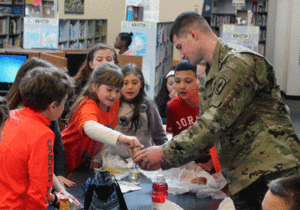 Catskill Elementary School's Student Council enjoyed a special visitor when their pen pal, U.S. Army Specialist Mitchell Kazanjian, stopped by to have lunch with the students on March 2.
"It's just real nice that they take the time to write to you, especially at such a young age, and even if you don't have the time to write back," said Kazanjian, who was visiting Catskill while on leave prior to heading up to Fort Drum in the Adirondacks and his new assignment with the 10th Mountain Division. "Now that I am stationed in New York, I have time to stop by and visit the kids who are writing to me."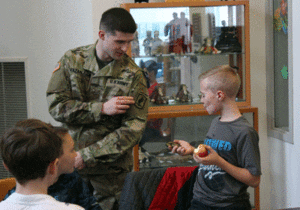 Student Council advisor Barbara Erceg connected her students with Kazanjian last year after she learned from CMS principal Kerry Overbaugh that Kazanjian, who is Ms. Overbaugh's nephew and a Cairo-Durham graduate, was deploying overseas. Kazanjian was stationed in Italy with the 173rd Airborne Brigade and spent time in Ukraine, Lithuania, Poland, and Estonia as well.
Over lunch, he explained to the student council members what their letters, well wishes, and care packages meant to him, and other soldiers in his unit, while he was so far from home. "It meant the world," Kazanjian said.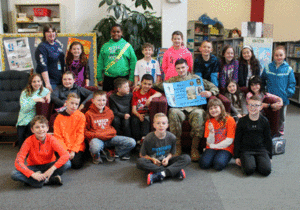 He brought along one of the Army's famed MREs (meal, ready to eat) to share with everyone and showed the students how soldiers warm their MREs in the field using a flameless heating packet activated by water. He also gave an airborne patch to fifth grader Chase Allen in recognition of Chase organizing a successful fundraiser to help a baby girl born with a serious heart defect.
Before he left, the students showed Kazanjian a poster they made honoring him, as well as posters honoring members of the 173rd who had died while serving. They also gave him a kindness rock, a star from a flag, and a blanket to keep him warm while in the cold and snowy mountains of the Adirondacks.