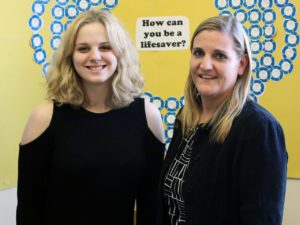 Catskill health teacher Colleen Clancy and high school senior Georgianna Velie had the honor of being featured speakers at the Mental Health Association of New York State's (MHANYS) Mental Health Education in Schools Summit held March 16th at Albany Law School. The summit brought together experts from the education and mental health fields to discuss the recently passed Mental Health in Education Schools Bill, which requires all schools in NY to teach about mental health.
While Catskill and other schools already teach about mental health, many schools do not. Clancy, in her role as a Health and Human Development teacher here in Catskill, has promoted mental health education programs at the state level for years and actively advocated for the passage of the Mental Health Education bill. The new law strives to increase students' abilities to recognize the signs of mental illness in themselves and others and seek help when needed, as well as reduce the stigma, isolation, bullying, and other issues that can come with it.
"Catskill has been at the root of this law from the beginning," Clancy said.
Because of her ongoing involvement in this area, Clancy was invited to sit on a panel of experts at the summit to discuss mental health education in public schools and share how the new law will benefit students.
The summit organizers were also looking for student voices, so Clancy recommended Georgianna as a speaker because of her dedication to Catskill's Yellow Ribbon Suicide Prevention program and her outspoken nature concerning mental illness issues. As a result, Georgianna found herself following such notable presenters as NYS Education Commissioner MaryEllen Elia and NYS Mental Health Commissioner Dr. Ann Sullivan as the summit's closing voice. She presented a video she made about her personal take on mental health and why it is imperative all schools educate their students about it.
"We talk about physical illness, but there is a stigma around mental illness that makes people not want to talk about it," Georgianna explained.  "The push is to get people to treat it like any other health issue. If we talk about it and realize it's a problem, people can be more aware and more able to address it."