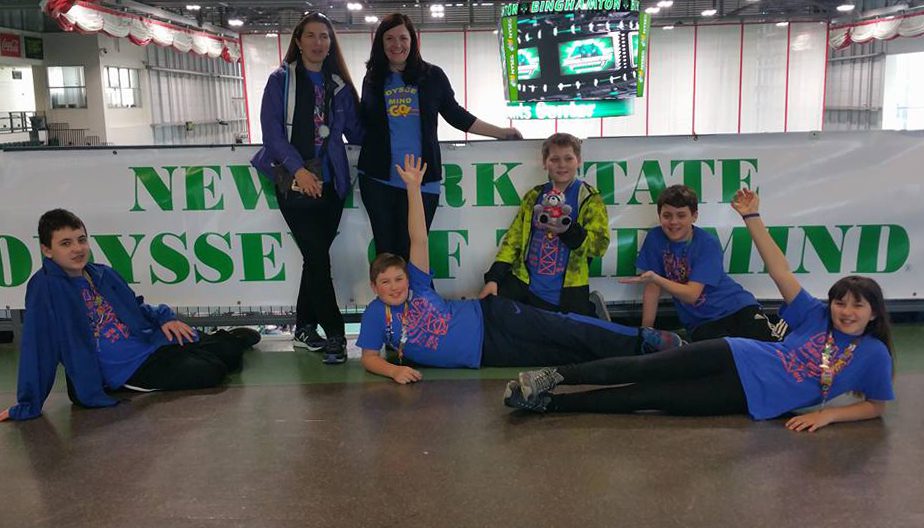 A team of six Catskill Middle School students won 4th place in the New York State Odyssey of the Mind Tournament held in Binghamton, NY on April 8th. Our team competed in the competition's Division II problem "Ready, Set, Balsa, Build!" where they designed, built, and tested a structure made only from balsa wood and glue, done as part of a performance with the theme of "using what's available." They placed 4th out of 15 top teams from across the state of NY! The event proved to be a very enriching experience for all involved and the students had a spectacular time.
The team is: Karsen Chiminelli, Raven DiRaffaele, Joseph Konsul, Adam Konsul, Christopher Konsul, Nicholas Konsul Middle School Odyssey Advisor/Coach: Colleen Nabozny
Parent Volunteers/Coaches: Karen Vanwie & Kelly Konsul
The team qualified for the State Tournament after placing 1st in the Region 4 Odyssey of the Mind Tournament organized by Questar III BOCES and hosted March 25 at Coxsackie-Athens CSD.
A team from Catskill Elementary School and a team from Catskill High School also placed first in their divisions at the Region 4 event and went on to compete at the State Tournament as well. They both finished 11th in their respective divisions on April 8th. All official scores can be seen at nysoma.org