A team from Catskill Elementary School advanced to the NY State Odyssey of the Mind Tournament following their top finish in Division I at the Region 4 Tournament held March 10th.
Congratulations to students Preston Cruz, Tegan Morehead, Cayden VanAlstyne, Noah Kubicek, Elizabeth Signoretti, Scott Buchinger, Lilly Lavoie, and coaches Laurel Fairchild, Sharon Tedford, and Natasha Law on their win!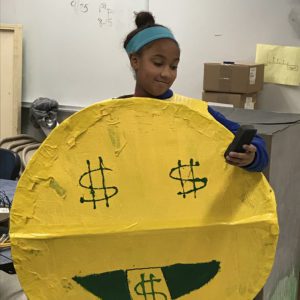 The team took on the competition's Problem #2 – Emoji, Speak for Yourself. In this challenge, the students were tasked with creating three-dimensional emojis to communicate the life story of a once famous but now forgotten emoji. Their problem also included a choreographed dance, a technical representation of texting, and sounds to enhance the performance. The twist? There was no speaking allowed!
Odyssey of the Mind is an international educational competition, coordinated locally by Questar III BOCES, that encourages students to use their imaginations and work as a team to solve problems. Teams were judged on their unique solutions to the problems as well as their teamwork, creativity, and ability to think outside the box.
CES also had one other team that participated in Odyssey of the Mind March 10, competing in the #5 Problem – A Stellar Hangout. They also put on a strong performance.
Congratulations to all our students who participated in this enriching event, and to our team headed to the state tournament at SUNY Binghamton on April 7th. Wish them luck and Go Cats!