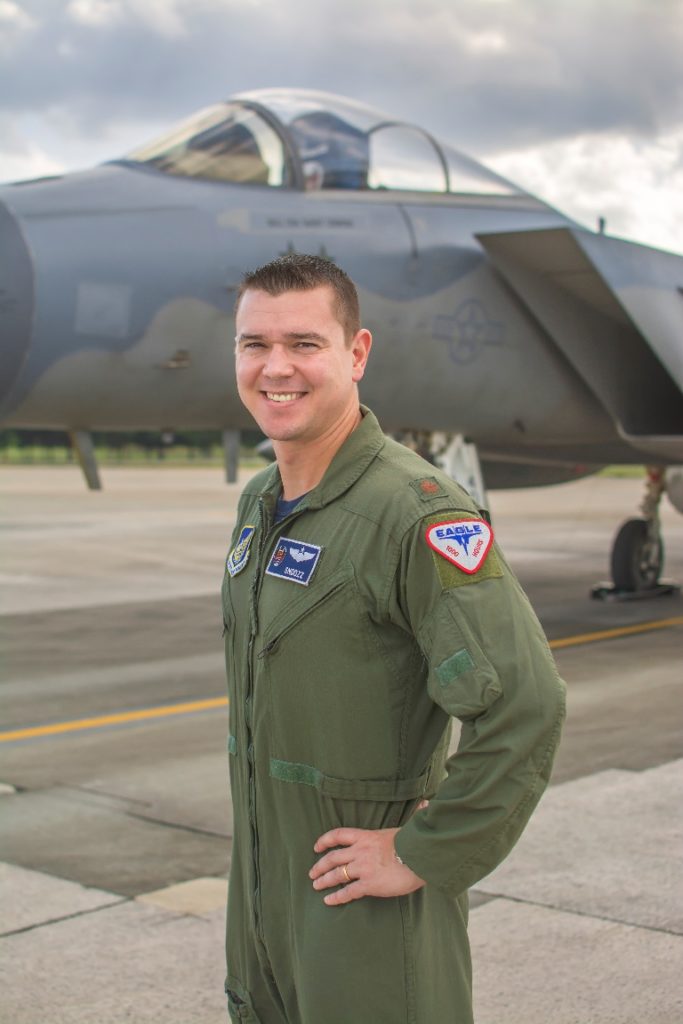 United States Air Force major and Catskill native Jonah Brown flew over Catskill CSD in his F-15 fighter jet on June 8, 2018 at approximately 9:00 a.m. His flight path made a low-level flyby flight over the Catskill Elementary School and straight down the 9W corridor over Cats Rental, Lacy Ford and McDonalds. He exited Catskill in full after burner and climbed to altitude for the remainder of his flight to Buffalo, NY where he participated in an air show that weekend.
Major Jonah Brown is the second son of Paul and Ruth Brown, owners of Cats Rental and The Sewing Place on 9W, Maple Ave. Jonah graduated Catskill High School in the class of 2001 as valedictorian then attended RPI where he also was enrolled in the ROTC program. Directly after graduation from RPI with his degree in aeronautical engineering, he was commission as a second lieutenant in the air force and was immediately enrolled in flight school. After flight school he was assigned to an F-15 squadron for fighter pilot training.
Major Jonah Brown provided a static display of his F-15 for all attending the show at the air show held at Niagara Falls airport. At the air show Major Jonah Brown represented the Air Force and encouraged young students to dream big. Jonah was bitten by the "fly bug" after he saw an F-15 and other planes at the Schenectady air show when he was only six years old.
Major Brown purposely selected his flight path to take him over Catskill to honor all those who have served.