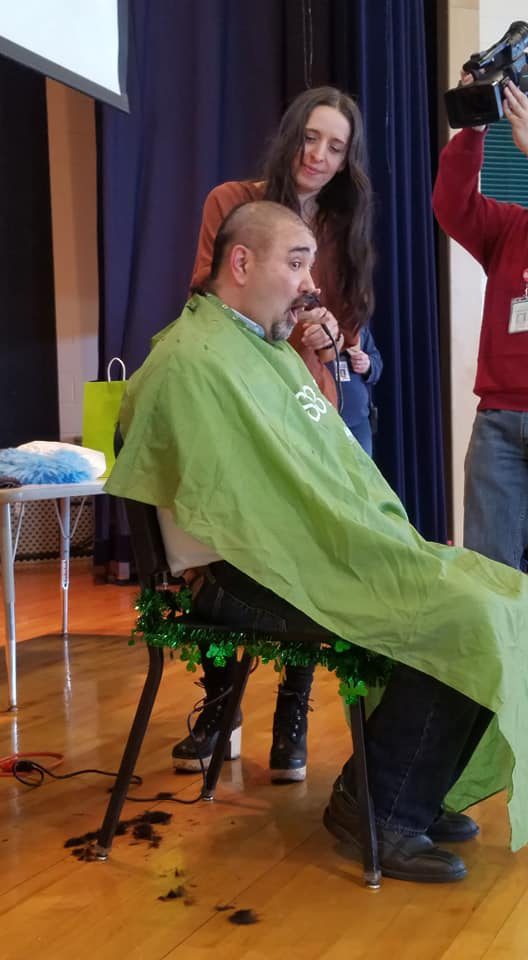 During the month of February, the CES Business Club and CES Student Council (Team Catskill's Kids) raised money for the St. Baldrick's Foundation to "Conquer Childhood Cancer." St. Baldrick's raises funds for childhood cancer research through head-shaving events held across the country. If the students could reach their goal of $3,000, CES principal John Rivers agreed to have his head shaved. The St. Baldrick's Day Fundraiser sponsored by the CES Student Council and Business Club raised a total of $5,290! During the CES Pride Assembly March 1, local hairdresser Chris Mercan, who donated her time, was there with razor in hand to make Mr. Rivers "go bald" in front of the whole school!
This fundraiser was brought to us by Student Council member Jaheem DiNardo and his mother, Heather DiNardo. They have been actively involved with the St. Baldrick's Foundation for several years and the DiNardo family raised $1800 towards the goal. Ms. Erceg (Student Council advisor), Jaheem, Mrs. DiNardo, and Mrs. Tedford (3rd grade teacher) attended the St. Baldrick's Event held at Saugerties High School on March 3, where Mrs. DiNardo and Mrs. Tedford had their heads shaved as part of the fundraising event.
Cats can and Cats will!