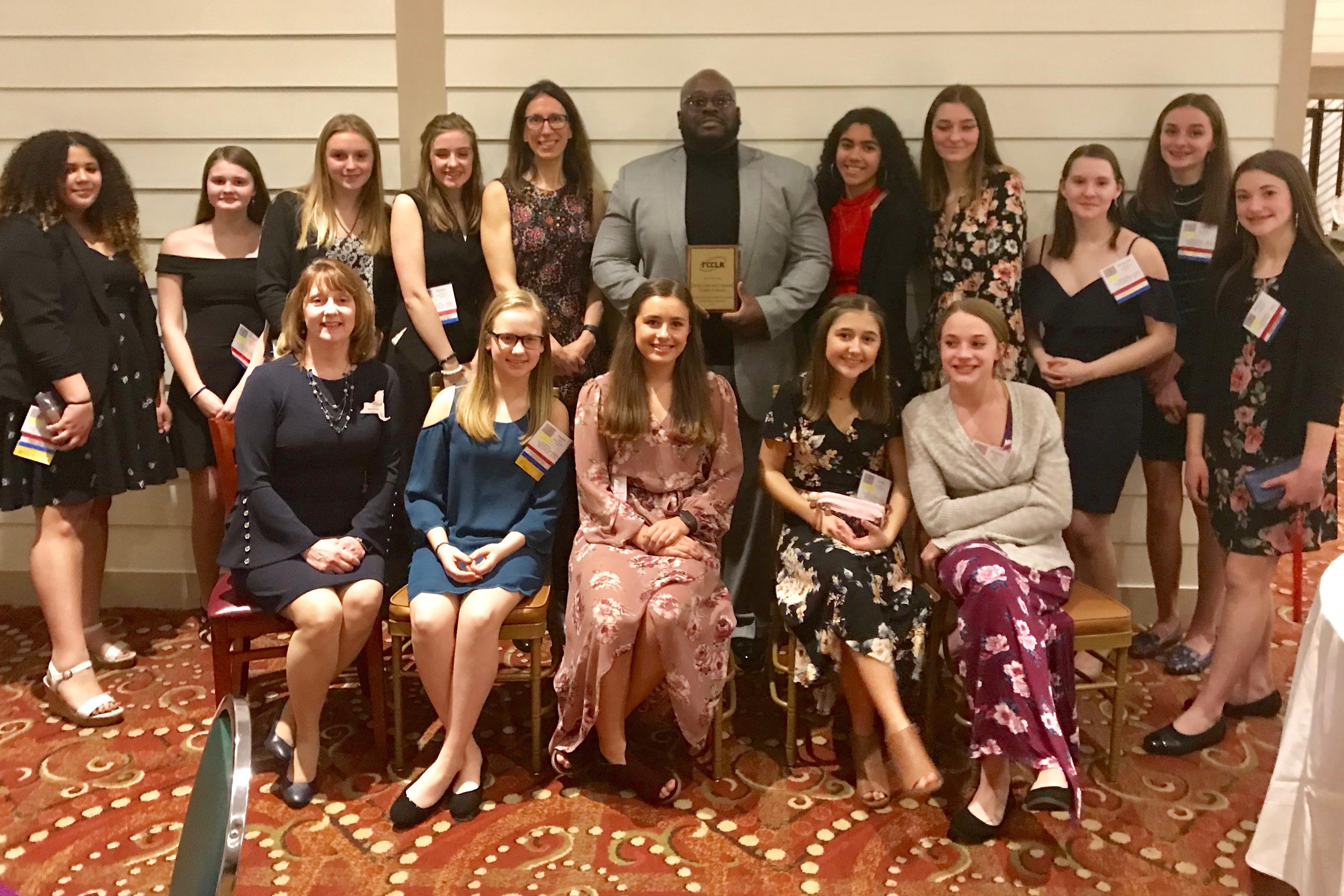 Catskill's Family, Career and Community Leaders of America (FCCLA) chapter scored big at the NYS FCCLA Conference and STAR Event Competition, held March 28 and 29 in Callicoon, NY. Of the six student teams who presented at the event, all came home with a medal, and the Catskill Board of Education received the FCCLA's Board Appreciation Award for its continued support of  Family and Consumer Science programs in Catskill.
Eighth graders Emma Brown and Lauren Liberti earned a Gold Medal in the Advocacy event. Since February, the pair have been campaigning for positive solutions to address e-cigarette use, or "vaping," among young people. Their efforts included developing public service announcements, leading discussions with fellow 8th graders in health class, and advocating before the Catskill Board of Education, the Tobacco Free Coalition of Greene and Columbia counties, and the Greene County Legislature's Health & Safety Committee for policies to deter young people from vaping, such as raising the minimum purchase age from 18 to 21. As gold medal winners, Emma and Lauren will be heading to the National FCCLA Conference in Anaheim, CA this July!
Eighth grader Madison Breunig and tenth grader Mackenzie Breunig earned a Silver Medal for their Chapter in Review presentation, which highlighted the qualities of Catskill's FCCLA Chapter. With over 59 members from CMS and CHS, Catskill's is the largest in the state and is active at the local, state, and national levels.
Ninth graders Kaelyn Bulich, Llanya Schantz and Alivia Westbrooke won a Silver Medal for their Chapter Service Project, in which they raised $500 dollars by baking and selling brownies to support a fellow student who is battling cancer.
Ninth grader Rachel Marino also earned a Silver Medal for her National Project in Action, in which she made flannel wraps for newborns and donated them to the Alpha Pregnancy Care Center in Albany.
The team of tenth grader Isabella Seeley and eighth graders Lilana Seeley and Madison Hallam earned a Bronze Medal for their National Project in Action, in which the trio organized a free family dinner night at Catskill High School to promote the benefits of eating together as a family.
Eighth grader Aryanna Burbas also took home a Bronze Medal for her Life Event Planning project, where she planned a birthday party for her siblings – from the invitations to food and entertainment – all while sticking to a responsible budget.
In addition, Catskill 10th grader Sydney Moe, who was a presenter at previous conferences, served as a student evaluator for the STAR Events at this year's conference.
Congratulations to our FCCLA – Cats can and Cats will!