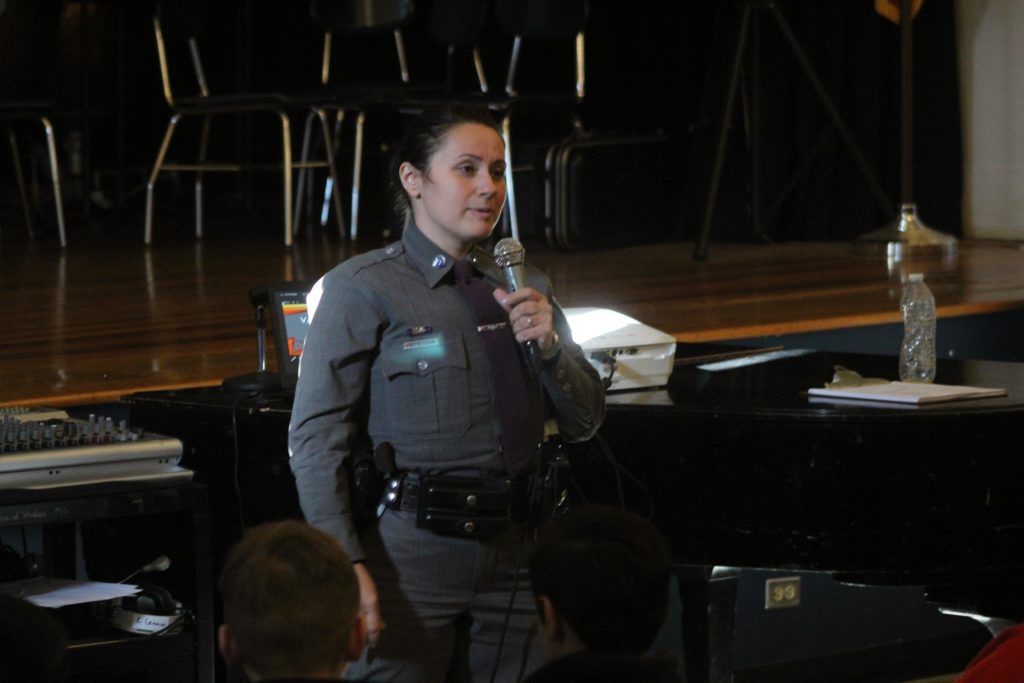 NYS State Police Trooper Anca Watt was at CMS on January 22 to speak with students about the developing health epidemic of e-cigarette use, popularly referred to as vaping.
"Who thinks vaping is safer than cigarettes?" she asked at the start of her presentation, asking for a show of hands. "I'm going to change your mind. Vaping is very dangerous, it is not safer than cigarettes." Over the next hour, Trooper Watt discussed what is actually in popular vaping products, the health dangers of vaping, and how tobacco companies are targeting young people when marketing these products. "What you are breathing in is an aerosol," she explained, asking students to name some common aerosols, who offered up examples like hairspray, toilet bowl cleaner, and spray paint. Just like those products, the aerosols e-cigarettes produce contain plenty of nasty things including heavy metals, fo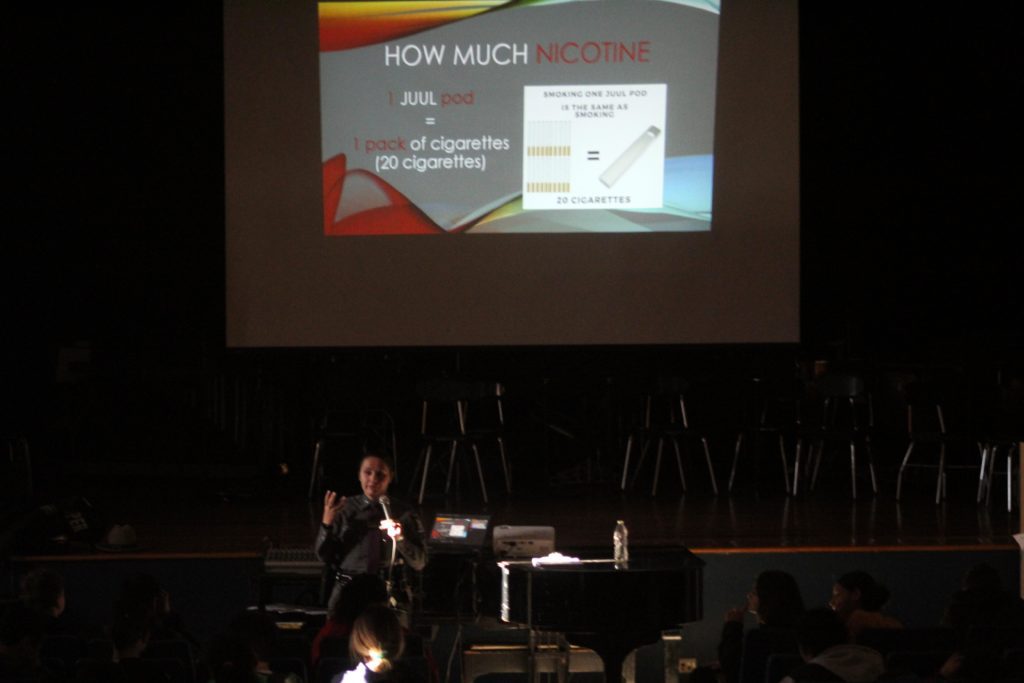 rmaldehyde, chemical solvents, and other toxins linked to brain damage, cancer, and lung disease. To make matters worse, vaping companies add high doses of nicotine to their products so that users get hooked quick and find it difficult to quit- just like with cigarettes.
"What I want you to focus on is that 54 people have already died from vaping," Trooper Watt said, adding that thousands more have been sickened and hospitalized, and those are just the health problems we know about to date. Because vaping has been around for only a short while, its long-term health risks are currently unknown.
Trooper Watt is the School Community Outreach Coordinator for Troop F of the NYS Police, which covers our region. Her visit was arranged by Mrs. Conrad, CMS health teacher, who was teaching a section on vaping for her eighth graders. Because of the importance of this topic, Mrs. Conrad arranged for each grade at CMS to attend their own presentation, so that all students could hear from Trooper Watt.
"I hope you guys go out and make good choices," Trooper Watt concluded.
Prior to the start of each assembly, Mr. Shah, CMS Assistant Principal, and Dr. Cook, Superintendent of Schools, discussed our school's anti-bullying policy and their expectations for appropriate student behavior. They also reminded students that they can report incidents of bullying hassle-free by using the form available in the school's main office or in Google Classroom. "We want to make sure you feel safe and comfortable in school," Dr. Cook told the students.