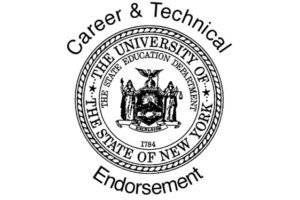 The Catskill Central School District is proud to announce that the New York State Education Department (NYSED) has approved Catskill High School's application to offer an accredited Career and Technical Education (CTE) Business Management/Entrepreneurship program. Along with providing Catskill students with diversified electives, this new course offers students an additional opportunity to earn a diploma with CTE endorsements.
NYSED's approval is the result of Catskill business teachers Patrick Hernandez and Jaclyn Sirianni undertaking the lengthy program approval application process needed to bring this accredited program to Catskill, which will be offered at CHS starting next school year. 
The Business Management/Entrepreneurship program adds to Catskill's growing list of accredited CTE programs. Last year, Catskill was awarded CTE credentials for its Hospitality & Tourism, Marketing, and Nutrition, Health & Wellness courses. 
"The CTE credentials in the Business Management/Entrepreneurship program will provide our students with yet another pathway for graduation and beyond," said Catskill's superintendent of schools, Dr. Ronel Cook. "On behalf of the Board of Education and myself, I would like to extend congratulations and gratitude to Mr. Hernandez, Ms. Sirianni and the entire High School team for their hard work and effort for Catskill CSD's students." 
At Catskill Central Schools, Cats can, and Cats will!