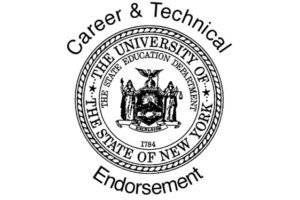 The Catskill Central School District is proud to announce that the New York State Education Department (NYSED) has approved Catskill High School's application to offer an accredited Career and Technical Education (CTE) Graphic Design program, starting next school year. This newly accredited course of study will offer Catskill students an additional pathway to earn a diploma with CTE endorsements, a seal of approval that indicates to employers that the student has gained work-ready skills in a particular area. In Catskill's Graphic Design electives, students learn about computer graphics, design and drawing for production, and digital photography.
The NYSED accreditation was spearheaded by Catskill High School technology teacher Brian McDonnel and principal Junait Shah. The pair undertook an in-depth, months-long state application process that included consulting with a professional graphic designer working in the community and proving to the state that Catskill's related courses meet appropriate standards.
"Our school district continues to expand our pathways to graduation so that our students have diverse ways to pursue their interests and gain skills employers and colleges are looking for. I would like to commend Mr. McDonnel and Mr. Shah on their successful efforts to secure this important new accreditation for the benefit of our students," said Catskill's interim superintendent, Thomas Bongiovi.
The Graphic Design endorsement brings the number of accredited CTE programs offered at Catskill High School to five. Last year, Catskill was awarded CTE credentials for its Business Management/Entrepreneurship program, and in 2020 for its Hospitality & Tourism, Marketing, and Nutrition, Health & Wellness courses.
Cats can and cats will!