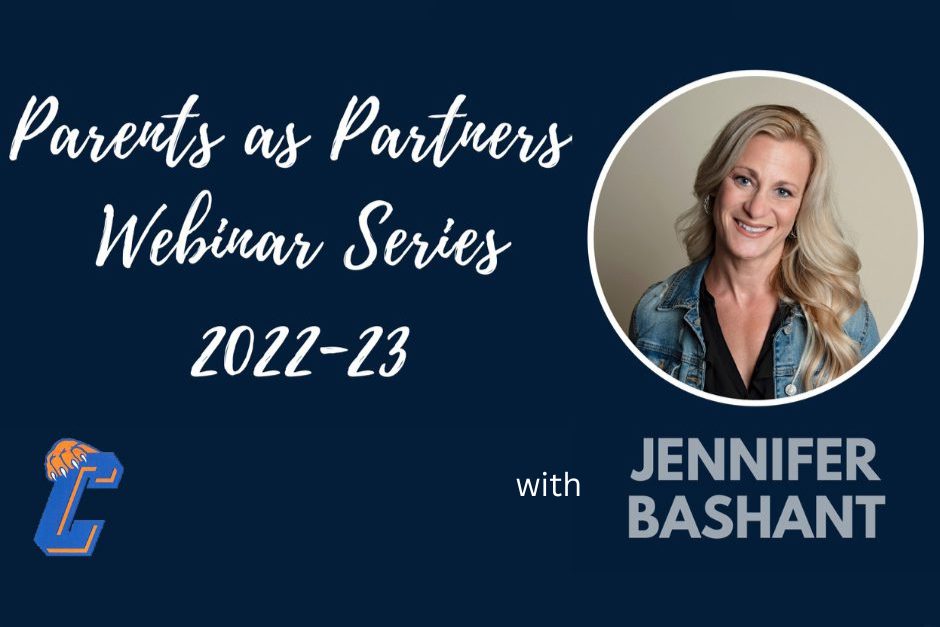 We are excited to introduce you to Jennifer Bashant, Ph.D.,LMSW, MA, Educational Consultant and Trainer, who will be hosting a four-part Parents as Partners Webinar Series over the next couple of months. This webinar series provides families and staff in participating districts and companies access to all live zoom webinars. Each session will be recorded, emailed to registrants the day following the live webinar and available for the entire school year. Each live webinar will take place at 6:30 p.m.
To watch live or recorded, please Register Here…
Help Your Child Mange Strong Emotions – January 16
Being able to recognize the physical warning signs and knowing how to regulate the body in order to manage strong emotions such as anger, guilt, sadness and even elation, are skills that must be developed and practiced. For some children, this is more challenging and emotion regulation strategies must be explicitly taught. During this webinar, you will learn how to use mindfulness, art, soothing music and physical activity to help your child develop a toolbox of strategies that work.
Ways to Motivate and Engage Your Child – January 31
Most of us were raised with behavioral reinforcement systems, such as earning TV time for getting chores done and a little extra money for good grades on report cards. For some kids, systems like this work well enough, but for kids with challenging behavior, behavioral systems often make things worse! During this webinar, you will learn about the three ways to develop intrinsic motivation, or being self-motivated, and how to create conditions at home that encourage your child to be more engaged, interested and motivated to act… simply because it feels rewarding to them when they do so.
Building Executive Skills and Managing ADHD at Home – February 28
During this webinar, you will learn research-based practices for managing ADHD at home and helping your child learn the life skills they need. Strategies for reducing impulsivity, improving organization, forming positive social connections and improving focus and concentration will all be discussed. In order to use all of these skills, your child must be calm and regulated, so we will also talk about ways to promote self-regulation, including making sure that your child has the language they need to label and talk about what they are feeling.
Understanding the Impact of Childhood Trauma and What You Can Do at Home – March 21
Caregivers often feel powerless in the face of trauma, yet we play a critical role in empowering our children as they cope with and heal from any trauma they have experienced. Explaining the ways in which trauma dysregulates the body is an important first step. During this webinar, you will learn how to teach your child or teen simple strategies to strengthen coping skills, such as mindfulness exercises, while also determining when and how to seek high-quality, trauma-focused therapies and other mental health resources.
Jennifer L. Bashant, Ph.D., LMSW, MA
Jennifer Bashant, founder of Building Better Futures LLC, is an Educational Consultant and Trainer with the mission to provide educators with evidence-based strategies to reduce challenging behavior in the classroom, and therefore, have a positive impact on learning. She is extremely passionate about her work, which is evident in her high-energy, engaging trainings and in her ability to connect with educators in a compassionate and authentic way. Jennifer provides training and embedded coaching to educators regarding the most behaviorally challenging students. Her approach is trauma-sensitive and strengths-based, and she seeks to foster collaborative relationships between educators and students as they work together as partners in learning. Jennifer has been trained in Collaborative Problem Solving and the Mindful Schools curriculum for students ages kindergarten through grade 12. As a certified DiSC Trainer and a certified EQ-i 2.0 Trainer, Jennifer also works with administrative teams, building leadership teams and teachers about emotional intelligence and how to communicate more effectively.
http://buildingbetterfutures.co