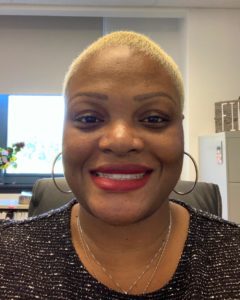 Meet Ms. Yvonne Palmer, the newest member of Catskill Central School District's administrative team. As Catskill's Assistant to the Superintendent for Special Education, Ms. Palmer oversees our District's Special Education Department.
"I'm very excited to be here in a capacity where I can support Catskill's special education program and further our District's mission in supporting all children to reach their true academic potential," Ms. Palmer said.
She comes to Catskill from the New Rochelle City School District, where she was the Assistant Director of Special Education. Prior to that, Ms. Palmer served as the Director of Instructional Support Services and as an Assistant Principal for the Poughkeepsie City School District, where she also worked as a high school special education teacher. She began her teaching career as a special education teacher for the New York City Department of Education serving the elementary and middle school grade levels.
Ms. Palmer says special education has been her true calling ever since the day that, as a theatre artist looking to make ends meet, she took a job as a substitute teacher. "My first assignment was to a special education class. On day one I knew that this is what I needed to be doing," she said. "I enjoy collaborating with teachers, families, and students to meet the needs of diverse learners. What I find most rewarding is helping them realize their abilities, rather than their disabilities, and seeing them overcome challenges to grow as individuals."
Along with pursuing her doctorate in educational leadership from the Sage Colleges (expected date of completion December, 2021), Ms. Palmer has earned a master's in administration education from the College of St. Rose and a master's in special education from Mercy College. She holds NYS certifications as both a school district and school building leader, and as a special education teacher.
The Board of Education appointed Ms. Palmer on August 19, 2020 and she officially took the reins of our Special Education Department on September 21. Please join us in welcoming her to the District.