Catskill Elementary School was proud to welcome children's authors Diane DeGroat and Dan Sadlowski for a surprise visit on May 3rd! Both authors did readings and Q&A sessions with students in the CES Library.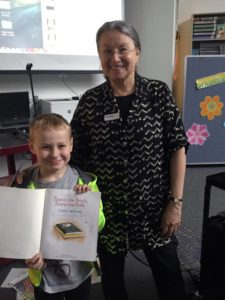 Diane DeGroat, award-winning author and illustrator of over 150 books, is the writer of the beloved Gilbert series and the illustrator of Ree Drummond's Charlie books. She read to students in K-2 from one of her Gilbert books, whose main character is an anthropomorphic possum in the first grade. Mrs. DeGroat, who lives in Amhearst, Massachusetts, talked about how she illustrates books and how she writes them. She answered lots of questions from students. Her warmth and humor made everyone laugh.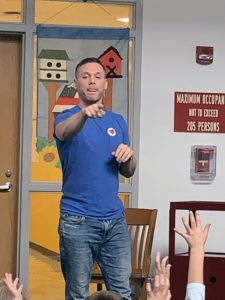 Dan Sadlowski's book, Finding Brooklyn – and the Next Great Superhero, is about a girl who discovers the powers that make her special. Mr. Sadlowski reminded students in grades 3-5 that everyone can be a superhero using their own inner gifts. "Are you special? Are you a superhero?" he asked. "I think you're crazy if you don't think so!" By day, Mr. Sadlowski teaches technology at Richmond Consolidated School, an elementary and middle school in Richmond, Massachusetts. He hopes that his story empowers kids and instills bravery during tough times. In each presentation, he asked CES students to identify some of their own "super" strengths.
Needless to say, both authors were huge hits with the students at CES! Both author's visits were funded by the CES PTA and the Catskill Educational Foundation, and were in coordination with the Hudson Book Festival, which took place on Saturday, May 4th, at Hudson High School.